See the plan below, then order your book!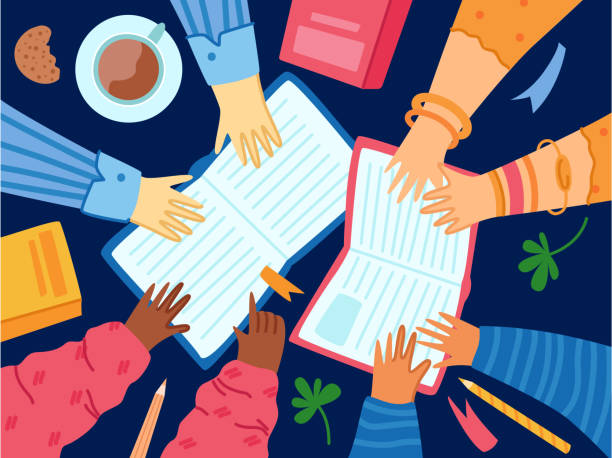 WE DID IT!  See plan below. Order book at this link.  The artist who designed the cover is Manvi Semalty from Dehradun, India.  She designed this original painting based on the description I sent her of the imagery and symbolism I wished to portray in this Christian fiction work.  My brother helped me finalize the layout. Here's Manvi's email address: manvisemart@gmail.com Let her know if you're interested in her services.
Semalty, 
Manvi
PLAN FOR WRITING TOGETHER
Submit a one-sentence summary of your "story" that includes WHO, WHAT, WHEN, WHERE, WHY, and HOW. (Which character, how long after the seed story?  Depending on your timing, we may use your story as a flashback or a foreshadowing incident.) I'm going to write a story about….
Include two sentences that explain how your scene/story will flow out of the SEED STORY. Just a couple of sentences will suffice. My story will flow out of the SEED STORY by showing …
We will decide who gets to write which story based on responses to the prompts in the application form. We will let you know within a week which character you will be "assigned".
Based on your personal experience or observations, create a short story that will flow with or out of the SEED STORY I sent you. We are trusting that you will not disclose information about the SEED story until after the book is published.
Write in the first person as the character you are assigned. Help us SEE your character by using the S.T.E.A.L. character development elements: Speech, Thoughts, Effect on others, Actions, Looks (physique, attire, etc.)
Write a scene that includes authentic dialogue between your character and Lillian or Louis, the main characters in the seed story. (NO PROFANITY or RACIST LANGUAGE.)
Have your character quote directly or indirectly a verse from the NIV or KJV version of the Bible that relates to something in the story – an action, an attitude, an opinion (In parenthesis give the book, chapter verse and NIV or KJV (Genesis 1:1, NIV)
Include a fully developed scene that appeals to four of the FIVE SENSES: sight, sound, smell, taste, touch.
This will become an e-book that you can purchase as a print book from the  PUBLICATIONS website as a print on demand.  That means you pay printing, tax and shipping using the link on the PUBLICATIONS website.  No minimum number of books is required for purchase.
We reserve the right to make minor changes to enhance the flow of your story and its connection to the seed story. If the first submission is missing any of the key elements in the requirements listed, we will return it to you for revision.  We will accept one revision of your story based on the comments we send to you.  If the re-submitted story does not meet requirements, we will not include it in this collection.  With a little more work, you may submit it to another publication.
Still interested?  Email me at ajroseboro@comcast.net  and I'll send you the seed story. "Two, One, Now Three?" and the link to a form to indicate your top three character choices, and the one sentence summary of first choice character and how your story will flow with or out of the SEED STORY.
JATNE PUBLICATIONS will be the publisher and they will contact you regarding the modest cost to participate.